Lets start this report with the news that a PINK Prosecco has been officially approved by the Italian Prosecco DOC members. Strange you may say because pink Prosecco has been made and on sale in Australia for at least 5 years!
According to the new Italian regulations rosé Prosecco must be made with a Glera base and blended with 10%-15% Pinot Nero.   The only two permitted styles will be a Brut natural and extra dry style. The wines are allowed to go on sale at the earliest only on 1 January 2021. Labels must be vintage dated with a minimum of 85% of the fruit coming from the stated vintage. The new regulations are going to be made national and European law on the Italian government's Official Gazette and the EU's Official Gazette. It was also announced on 20 July that the Valdobbiadene Prosecco DOCG has approved a decision by its members to reduce the yields for the 2020 harvest to mitigate the risk of oversupplying in the wake of the coronavirus.
This is how the Italians go about things and why they are actively attempting through the courts to ban   the term Prosecco. The pink version allows the addition of a proportion of red grapes to the white to give it colour, or grape skins to give concentrated colour. Then the pink blend undergoes a second fermentation to produce sparkling rosé – the standard method used to make Prosecco.
Australian producers have constantly been doing their own thing and producing a pink Prosecco. Five years on the Italians are catching up. A few years ago a select group of Italian winemakers visited on a study trip to the King Valley saw, and tasted the regions pink Prosecco but only now are they themselves authorising a pink version.
 Also I have detailed the march to Canberra to lobby federal politicians to battle the European Union to allow Australia call the wine Prosecco, instead of the variety's real name Glera. I suspect few people would buy a sparkling wine called "Glera". But by its protected name of Prosecco it is the fastest growing sparkling wine style in the world.
The Victorian Government also gave the King Valley lobby group a $30,000 fighting fund to protect their use of the name. This fighting fund is also used to work with Wine Victoria and the King Valley inspired Prosecco Road initiative to drive domestic visitors to the King Valley region now that international tourists are many months away.
Anyhow instead of French Champagne I now opt for a King Valley Prosecco when I want to enjoy a refreshing sparkling wine. (Not the pink version). Readers of this Blog will recall I have touched on the ongoing controversy over the use of the name to describe the variety in Australia.
It is a grape variety indigenous to north-eastern Italy's Veneto region. Prosecco DOC which is, in fact, the name of the region, which is why there's the current controversy. Prosecco is the biggest-selling Italian wine in the world.
In Australia, Prosecco is the fastest growing category in the off-trade market. Sales are rapidly growing and have more than doubled in the last two years. Prosecco is now the second biggest sparkling wine category behind Chardonnay Pinor Noir blends. While most white grape varieties saw a decline in production volumes, Prosecco bucked the trend, moving it into the top 10 white varieties for the first time. Prosecco is now grown across 11 Australian regions. The majority is grown in the King Valley and Murray Darling-Swan Hill regions. Needless to say the quality also varies considerably as winemakers look to cash in on the brand.
Why is Prosecco so popular?
Prosecco is more affordable and approachable than other sparkling wines, such as Champagne. It is easy to drink and sophisticated without the pretence that is sometimes associated with drinking Champagne. Champagne is too luxurious, heavy and unaffordable for a weekly treat or small event. Sales of cheap Prosecco in the domestic market are predominantly between $10 and $20 per bottle but for better quality brands look for $30 – $45. This price point has made drinking 'bubbly' a much more accessible experience and an everyday luxury. Prosecco is also appealing because it is a versatile sparkling alternative for all occasions. It can be enjoyed as it comes or mixed with Aperol for a refreshing spritz. I delight in making an Aperol Spritz as an aperitif.
Italian Proseccos
Bellussi Prosecco di Valdobbiadene is a notable Italian Prosecco. Nice white floral overtones with notes of green apples alongside a creamy, long-lasting taste with just a touch of sweetness. A$22.00. Salatin Prosecco Extra Dry. The colour  was  yellow with greenish highlights  but there was an explosion of fruit and floral aromas with the distinctive fresh notes of green apple. Finished smooth and sweet. A$24.00. Porta Dante Prosecco can be found in major liquor chains at about A$16.00. Bright straw yellow hue leads to peach/apple fruits. Soft style and great for general drinking or for the Aperol!  Mionetto releases a number of Prosecco styles. Light straw colour with hints of honey and white peach. Nice acidity provides a fresh and lively mouthfeel with a clean dry finish. Use it to make cocktails. A$14.00.  Zonin Prosecco features a colourful label to attract the punters. Falls over from there. Taste was sweet with those yeasty overtones and citrus after tastes. A pleasant wine for the main market. A$14.00 from major chains. Valdo Marca Oro Prosecco Valdobbiadene-Veneto is exported to and recognised throughout the world. Delicate pale gold fruitful aromas of  golden delicious apples and a hint of honey. Balanced palate and the best of this lineup. A$21.00.
 

Australian Proseccos
The Australian Prosecco brands here vary from large to boutique producers. There are also plenty of mediocre versions.
I can't talk about Australian Prosecco brands without mentioning Dal Zotto first.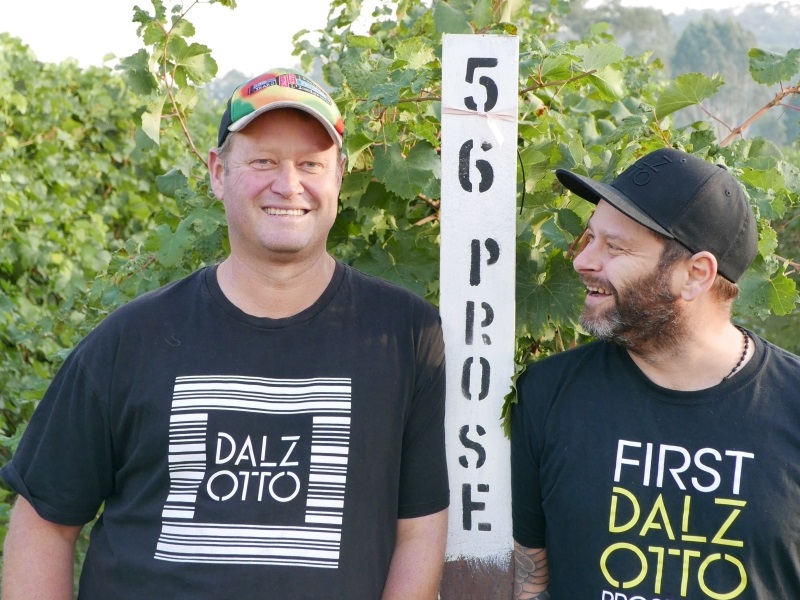 Dal Zotto owners: Winemaker Michael (left) and Christian Dal Zotto
Dal Zotto is a pioneer of Prosecco in Australia. Twenty years ago, patriarch Otto Dal Zotto sourced Prosecco vine cuttings from the home of Prosecco and his home region of Veneto in north-eastern Italy, to plant at his home in King Valley.
Their NV Pucino Prosecco (opposite) accounts for 95% of all its Australian sales and no wonder why.
Pale straw colour, hints of fresh cut pear, citrus and touch of spice jump out on the bouquet; the palate is soft and with gentle bubbles provides maximum freshness.  $19.00 96/100
Australia's biggest Prosecco producer, Brown Brothers, of the King Valley, is also worth noting. It has invested millions of dollars on planting Prosecco vines in the region and plans to develop a Prosecco packaging facility costing more than $20 million. De Bortoli and Pizzini are other popular producers from Australia's home of Prosecco, the King Valley. Niccolò and Zaptung are a couple of boutique brands from South Australia. It's also worth mentioning a couple of brands imported from Italy, but to my understanding created and positioned only for the domestic wine market: Mascareri and Ciao Bella. Finally, Freixenet is another import in a striking cut glass bottle – made to impress.
Finally consider Prosecco in cans. It is very appealing because of its versatility,  affordability and convenience. During the summer cans can be kept chilled and easily carried in portable eskys to the beach or around the pool.
My I can't wait.
Please follow and like us: