Above: John Forest from Forest wines in Marlborough, NZ with The Doctors range of wines.
You may not like to drink them but the fact is there is a growing demand for no and low alcohol wine around the world. 18 wine companies in NZ for instance, formed the  'New Zealand Lighter Wines' initiative which has led to the release of a range of initially low and more recently no alcohol wines called NOLO wines for short.  
 New Zealand wine producer John Forrest, became a NOLO pioneer in 2006.  "I had zero interest in lower alcohol wine up until 2006 because, quite frankly, I quite enjoyed a big 14.5-15% Aussie Shiraz and still do. But, because I'm a Riesling-file, and I didn't have a Kabinett style Riesling in our portfolio I made one".
The Kabinett-style Riesling was bottled under its own label called The Doctors' and launched at a tasting in Christchurch in September 2006. "Everybody commented that it was a nice Riesling, but they loved the idea of good wine with less alcohol. I thought if I could make a lower alcohol, high quality Marlborough Sauvignon Blanc typical of its style, you would be onto a sure winner, given that Sauvignon Blanc was the biggest volume and biggest value white wine in the world at the time. But in the first two years I made "some pretty average wine samples".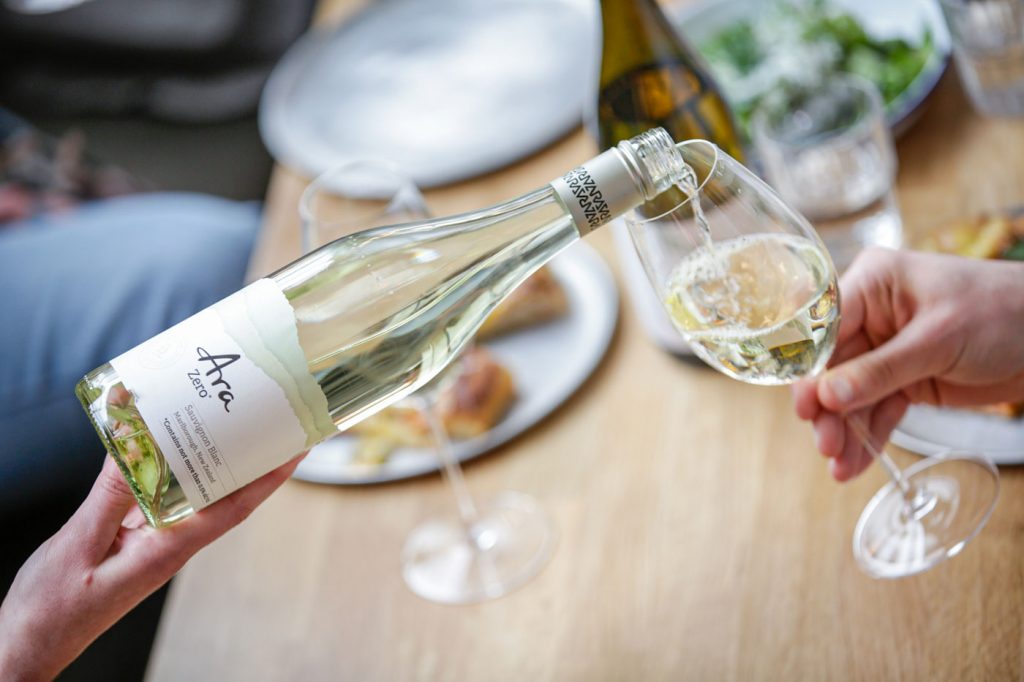 Turning attention to the vineyard
An abstract from a research article out of Germany's Geisenheim University described some success by reducing alcohol levels via leaf removal.
For two or three years he selectively removed leaves according to different timings and the number and position in the canopy. He found that a certain set of leaves at a certain time clearly slowed the rate of sugar, but when you tasted the juice, it tasted ripe.
Secondly, he changed the shoot positions in the canopy structure so that the leaves he wanted to trim off were above the top of the trellis posts.
The first Sauvignon Blanc under The Doctors' label was released in 2009 at 9.5% alcohol and three years later the 2012 vintage picked up the wine's first gold medal. Success followed with UK supermarket chain Waitress, taking a contract for 40,000 cases a year and then local viticultural consultant David Jordan came knocking. Jordan was aiming to make the New Zealand wine industry the international leader in the production of premium lower-in-alcohol wines.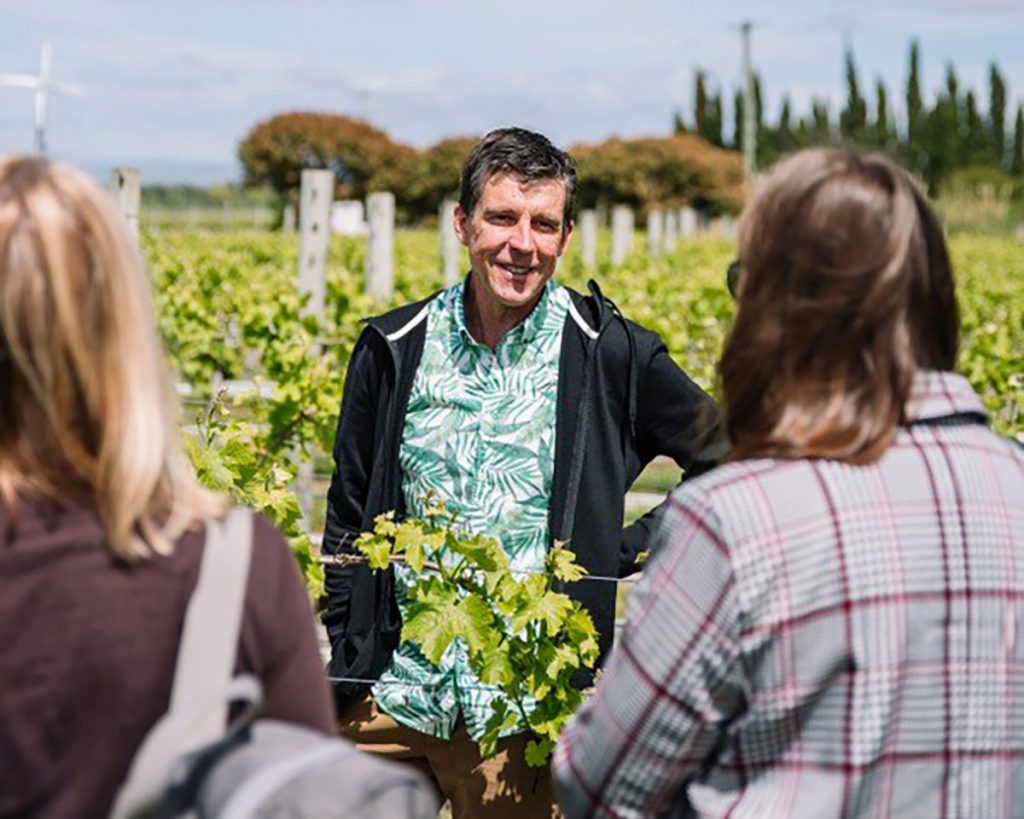 Forrest Wines would become one of 18 New Zealand wine companies that contributed either cash or in-kind support to the research and development that became known as NZ Lighter Wines.
Beginning in 2014, it was led by New Zealand Winegrowers, with the support from the participating wineries supplemented by industry levy funding and the NZ Government, bringing the total funding pool to $15 million (AUD) in dollar terms. The largest research initiative ever undertaken by the New Zealand wine industry. Its challenge was to solve how to naturally lower the alcohol content without compromising the quality, flavour and style of wine.
"We wanted to hold true to what New Zealand wines are internationally renowned for: that they be vibrant and flavoursome, still refreshing and have all the quality attributes of the wines that has enabled us to have an export profile and sell significant volumes which are now achieving NZ$2 billion worth of export earnings around the world,"  Jordan explained.
"We wanted to better understand the role of alcohol as you come down the scale to less than 10%. Model Sauvignon Blanc wines were developed to understand exactly what aspects of the sensory experience were affected by reductions in alcohol. A reduction in alcohol from 12.2% to 9.5% increased the perception of acid and conversely decreased the perception of sweetness, bitterness, full-bodiedness, smoothness and palate length" he said.
 They found the aromas and flavours better than at a higher alcohol level   and subsequent work revealed that some of the more tropical flavours that Sauvignon Blanc is known for, present better at a lower alcohol.
Various techniques were trialled for their ability to delay sugar accumulation and impact on other wine parameters: short periods of deficit irrigation at key vine growth stages; fertiliser treatments; reducing canopy size through shoot thinning or leaf removal; and clones that were naturally lower in acidal selection.
"Technically, what we're talking about is delaying ripening so you can pick with the same flavours, same acid but at a lower sugar, in combination with the role of clones," Jordan says. "
Investigating winery manipulations 
It gets a bit technical here but stay with me please!
Winery manipulations were also investigated as part of the Lighter Wines initiative: the influence of skin contact to substitute the loss of texture, body and heat in reduced-alcohol wines; whether there was an optimal fermentation temperature to minimise the ethanol produced by yeast while maximising wine body and aromas in early harvest grapes; the effectiveness of different inoculation methods in reducing the conversion of sugar to ethanol in producing lower alcohol wines; and whether non-Saccharomyces yeast species could be used early in ferments to reduce the amount of sugar available to S. cerevisiase to ferment; and the role of oxygen during fermentation in reducing ethanol.(I hope you are still with me!)
Because the Lighter Wines initiative was based around producing lower alcohol wines naturally, this meant the lowest limit that could be achieved in wines like Sauvignon Blanc was 9-9.5%.
"It's very difficult to have wines of all the appealing character, aroma and flavour of Sauvignon Blanc or Pinot Gris if you go below that. If you're down to near 0%, you've transformed the beverage immensely and  you've got an even more significant challenge to actually get a wine to look wine-like," he explains.
But now an increasing number of lower and zero alcohol products have hit the shelves. A number of them have wines at the mid strength level of 5-7%. with some down at zero.
In 2018, Giesen released a Marlborough Sauvignon Blanc and Pinot Gris at 9% alcohol under the label Pure Light. In early 2020, the company also released the Giesen 0% Sauvignon Blanc, with stocks in New Zealand and Australia selling out shortly after release. Then in mid 2020, Giesen released its Ara Zero Marlborough Sauvignon Blanc.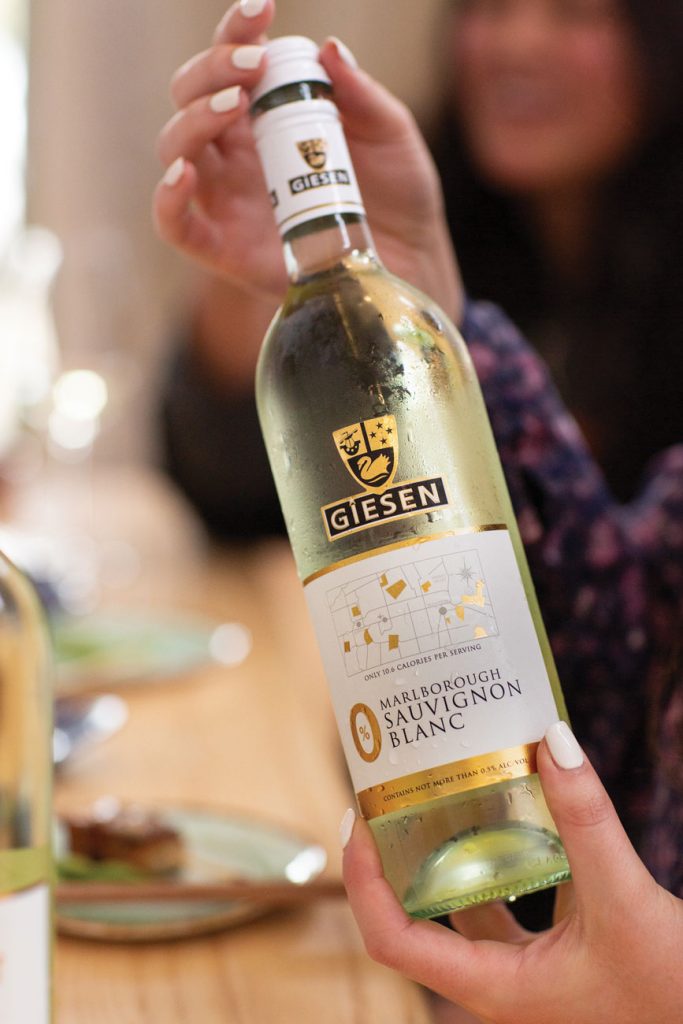 Please follow and like us: